Above heading from link below and speaks, reads, for itself: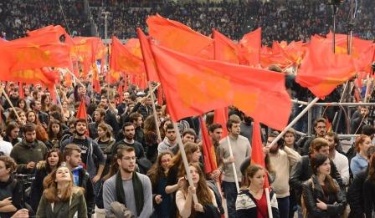 http://inter.kke.gr/en/articles/The-KKE-and-the-Declaration-of-Prague/
"HILLARY YA COULDA BEEN SOMEBODY..."
For those unfamiliar with it, a famous quote, paraphrase, from a classic movie about corruption, mafia, labor, "On the Waterfront," with a stunning performance by Marlon Brando.
(LINK provided at bottom of post.
)
Now, what do I mean by quote above??
Well, put most SIMPLY, in a nutshell, HILLARY CLINTON had a GOLDEN OPPORTUNITY handed her on a silver platter to BOLT our NAZI Democratic CORPORATE Party in her first Presidential PRIMARY when THEY manipulated to select stooge, toy boy, puppet, vacuous and empty-headed CIA Obooma, STEALING from under Hillary's feet a Presidential primary.
HILLARY, at that point, had behind her a FOLLOWING of multiple interests all thoroughly disgusted by our other NAZI Party Bush crowd.
AT THAT MOMENT, HILLARY COULD HAVE BOLTED, FORMED AN INDEPENDENT, POPULAR, THIRD PARTY, MOVEMENT, CANDIDACY, to CHALLENGE BOTH NAZI CORPORATE NAZI PARTY POLICIES, machinery.
She would have had PLENTY OF SUPPORT.
BUT, instead, Hillary chose a path of least resistance, I assume, for personal gain.
She did or could not rise to the occasion.
Unquestionably, THEY would have ATTACKED her most viciously, blackmailing her probably.
However, it is important to realize a COMPROMISE was reached within our SLEAZEBAG Democratic Party assuring Hillary a future position of Secretary of State.
So, in reality, HILLARY BECAME US PRESIDENT FOR THE FIRST 4 YEARS of CIA STOOGE AND TOY BOY ROCKEFELLER CITIGROUP/EXXON/MORGAN OBOOMA DICTATORSHIP, that is, HILLARY IMPLEMENTED and NEGOTIATED THEIR FOREIGN POLICY, which is what really counts.
Forget Obooma.
He is clueless, nothing but a bubble and bobble headed CIA front man at home, pablum for domestic consumption.
However, Hillary exited Obooma's second term and his/their SINKING, STINKING, TITANIC NAZI SHIP OF STATE.
Thus, really, for the past few years, the US operates with NO President aboard it.
Secretary of State Kerry does NOT count.
Both he and Obooma being close to zero.
So, OUR NAZI OCCUPIED US Ship of State flounders around, hither and dither, with economic policies determined by a club, association, of NAZI PRIVATE Corporate heads and THEIR competing, conflicting, interests abroad.
And, Hillary becomes an historical footnote.
Thus, "Hillary, ya coulda been somebody...,"
a story repeated unfortunately too many times historically and well worth studying, opportunities missed, denied:
https://www.youtube.com/watch?v=uBiewQrpBBA