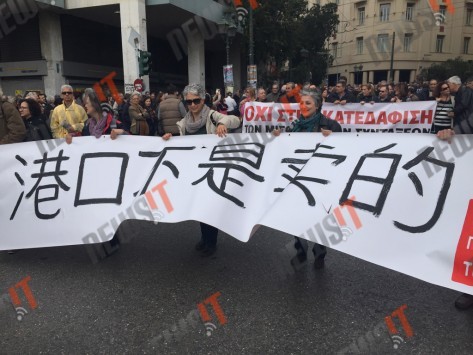 Private sector union GSEE banner in Chinese!
"The port is not for sale!"
Port of Piraeus sold to Chinese Cosco.
ABOVE WITH MORE REPORTING FROM:
Meanwhile, in Greek link BELOW, an appreciated contribution to the overall geopolitical imperialist and sordid military picture from the DESIGNS of a not-so-grand chessboard of Recidivist Crimes Against Humanity NAZI lineage ROCKEFELLER CITIGROUP/EXXON/MORGAN Brzezinski, Kissinger, CFR, their old and newly minted international cronies, clients, partners, parasites, associates.
I'm sure SOME readers HERE will not appreciate a word of link BELOW.
Terms used to them will be Greek, as the expression goes, even though it is in English.
It might as well be Martian.
Of course, analysis below represents a GENERALIZED geopolitical and military power picture, or, state of a NOT-SO-GREAT GRAND CHESSBOARD, so,
NOT NAMED specifically, as on MY many posts,
financial and corporate interests like those represented above and THEIR NAZI sponsored IRAN appeasement, collaboration POLICIES, with IRAQ occupation and annexation and WHY ALL MUST GET OUT AND GO DOWN TOGETHER, having NOW become so internecintly intertwined in an imperialist dance macabre.
NOR another ARTIFICIALLY MANUFACTURED SAUDI ISIS VERSUS IRAN HEGEMONY:
http://inter.kke.gr/en/articles/THE-MILITARY-POLITICAL-EQUATION-IN-SYRIA/