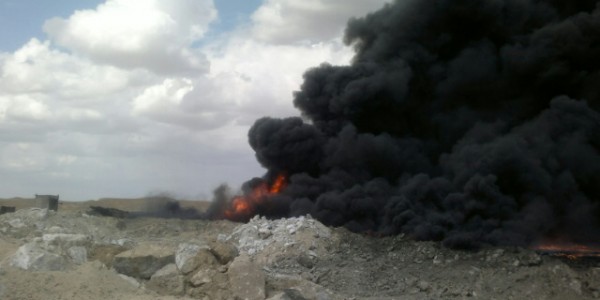 Depicted above NOT BOSTON, altho, along with many other places, it MAY well SOON enough be HERE.
Instead, above LATEST photo in our ONGOING IRAQ/MIDEAST "TERROR" WARS, link below:
http://www.iraqoilreport.com/security/energy-sector/qaiyarah-well-burning-spewing-toxic-gas-10652/
However, symbolically, it represents a vast DECREPIT, CORRUPT, BANKRUPT, REACTIONARY, COMATOSE, BARBARIC, PRIMITIVE, DEBASED, GLOBAL, ECONOMIC SYSTEM UP IN FLAMES, COLLAPSING, IMPLODING, EXPLODING, imminent and eminent, unfolding contemporaneously.
A deck of cards that NO longer can stand upright BY ITSELF, collapsing sequentially onto one another.
By now everyone OUGHT to know reasons WHY.
And, most certainly, to continue.
Lastly, returning to a favorite clever illustration source.
Not all equally clever, but, still good:
With 49 more FROM which to pick and choose:
http://english.ahram.org.eg/NewsContentP/31/8532/Cartoon/Cartoon.aspx